OUTSTANDING
About Atlas
Japanese piano expert Yukio wanyama is in charge of the overall technology of the piano. He leads the technical team to carry out all the follow-up inspection and guidance for each piano in the company, so as to ensure that the quality of the piano remains unchanged.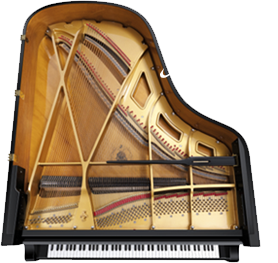 Excellent material selection to ensure the quality of piano
The percussion machine adopts German Renault movement
The shell is made of pure solid wood, which is not easy to be aged and brittle. It can extend the service life of the product and remain unchanged for decades.
The famous German rosslau steel string is the main material of the string.
The glue used is E0 grade environmental glue.
It adopts EU grade environmental protection piano paint, which has bright texture and is not easy to scratch.
Hammers are made of New Zealand first class cashmere.
The moisture content of the selected wood was controlled between 6% and 8% after drying balance treatment.
Unique design concept ensures perfect sound quality

Compared with the similar products, the bass chord length exceeds 6-8cm, and the timbre is more beautiful and clear;
The sound board and ribs adopt curved surface bonding process to ensure that the sound quality of the product will not change in extreme dry and humidity weather;
Compression string structure design enhances the penetration of timbre;
The wide sound box makes the sound more transparent;
The piano keys are longer than similar products, which makes the touch of the piano keys easier and more comfortable.

The spirit of craftsman"

Hanging string

"technology

The core technology of piano "hanging string" is all completed in the factory by the master with more than 10 years; each piano needs to enter the testing machine for destructive test before leaving the factory.
The whole test lasts for 15 minutes, which is equivalent to 5-6 years of playing times of family players. Through this test, we can verify the quality and quality of the products, and ensure that each product reaches the customer's hands durable.